LGMA Discussion on Proposed Changes to the CA LGMA Guidelines on Tuesday, August 8, 2023
Western Growers will be hosting a webinar on August 8, 2023, from 11:30 a.m. to 12:30 p.m. PDT to allow participants to learn about and have questions addressed regarding California LGMA's standardized approach to product testing data collection and considerations regarding flooding assessments.
Western Growers is opening a comment period from July 5 to August 4, 2023 at LeafyGreenGuidance.com to gather feedback from diverse stakeholders regarding proposed changes associated with pre-harvest product testing, data collection and flooding assessments.
On June 6, 2023, the California LGMA Advisory Board unanimously approved a proposed metrics/standards change that the CA LGMA Technical Committee put forth. In addition, current information regarding testing after flooding events has raised the need for reviewing best practices related to flooding assessments, specifically soil sampling and testing.
The Western Growers Center for Innovation & Technology, California Department of Food and Agriculture and Bakersfield College have partnered to host AgTechX Ed – a half-day event dedicated to developing the next generation of tech-savvy agricultural workers.

The AgTechX Ed Summit at Bakersfield College will be comprised of 3 panels, covering topics including: industry issues and skill identification; education and workforce development strategies; and current and future workforce needs on the farm.

This event is part of the AgTechX Ed Initiative – a statewide effort, led by Western Growers and California Department of Food and Agriculture Secretary Karen Ross, to cultivate a future workforce with the skills and knowledge needed to navigate emerging on-farm technology.
Register for the event to help us develop the skills of tomorrow TODAY!

Sonia Salas
Associate Vice President, Science

Greg Komar
Greg Komar works closely with the food safety community and industry stakeholders to assure the LGMA-accepted on-farm food safety practices are fully understood and implemented. Additionally, Greg helps to develop and deliver training programs to the industry. With over 20 years of experience in technical aspects of production agriculture, Greg has served in a wide variety of roles from conducting applied research to managing compliance programs for leading U.S produce companies to helping manage audit programs for certification bodies.

Dr. Tawny Mata
Director, Office of Environmental Farming and Innovation
California Department of Food and Agriculture
Dr. Tawny Mata has pursued a lifelong goal of contributing to sustainability through science. In 2013, Dr. Mata was awarded an American Association for the Advancement of Science (AAAS) Science and Technology Policy Fellowship at the U.S. Department of Agriculture (USDA) Office of the Chief Scientist. During her tenure as an AAAS Fellow and later as the USDA Partnership Coordinator for the U.S. Pollinator Health Task Force, Dr. Mata worked on several major initiatives to protect wildlife, build climate resilience, and enhance food security.
In 2016, she joined the Foundation for Food and Agriculture Research as a Scientific Program Director, and continued through 2017 as a consultant, managing a grant portfolio that spanned education, conservation, and plant health with an aim of finding evidence-based, practical solutions to challenges in food and agriculture. In 2017, Dr. Mata accepted a position as Director of Strategic Engagement for The Nature Conservancy and the Great Lakes Commission's Blue Accounting Initiative, where she led an external affairs team to promote collaborative, data-informed management of water resources across the eight states, two provinces, and two countries in the Great Lakes Basin. In 2021, she joined the California Department of Water Resources as an Environmental Program Manager supporting the sound management of native and endangered species impacted by the State Water Project, and in 2022 she was promoted to the position of Director of the Office of Environmental Farming and Innovation at the California Department of Food and Agriculture.
Dr. Mata received her B.A. in Biology from Pomona College and her Ph.D. in Ecology from UC Davis.

Scott Weeks
Senior Environmental Scientist
California Department of Food and Agriculture
Scott Weeks is a Senior Environmental Scientist at the California Department of Food and Agriculture, specializing in agricultural water use efficiency. With a B.S. in Biology from Texas Tech University, Scott brings a unique blend of scientific knowledge and project management expertise to his work. Before joining the California Department of Food and Agriculture, Scott served at the USDA: Agricultural Research Service in a soil microbiology and biogeochemistry lab based in Lubbock, Texas. During this time, he honed his skills in project management, coordinating and overseeing various initiatives focused on soil health and agricultural sustainability.
Scott's career has been defined by a multifaceted approach to addressing water-related challenges in agriculture. His experience encompasses both scientific research and practical on-farm knowledge, derived from growing up with a family farm. This unique perspective enables him to bridge the gap between theoretical concepts and real-world applications, providing actionable insights to farmers and stakeholders alike. In his current role, Scott leverages his project management skills to spearhead initiatives aimed at enhancing agricultural water use efficiency. His expertise enables him to develop and implement strategies that help farmers optimize their water resources, leading to more sustainable and productive farming practices.
Dr. Arlene Haffa is a Professor in the Department of Biology & Chemistry at CSU Monterey Bay. She earned her doctorate at Arizona State University where she used laser physics to study electron transfer in photosynthetic bacteria. Her postdoctoral studies were done at the Monterey Bay Aquarium Research Institute (MBARI) in Moss Landing. She taught in the chemistry department at the University of Wisconsin-Oshkosh for four years before joining the faculty at CSU Monterey Bay in 2011.

Cole Smith
University of California, Davis and Agriculture and Natural Resources
Cole is a Staff Research Associate with University of California, Davis and Agriculture and Natural Resources. His primary research area is sustainable nutrient management and soil fertility. His Ph.D. research has focused on the use of organic amendments within vegetable cropping agroecosystems of the California's central coast, aiming to quantifying tradeoffs between conservation management and nitrogen fertilizer use. Cole holds a master's degree from UC Davis in Soil Science & Biogeochemistry and has been with the UC system for 8 years implementing extension-based outreach and education programs to divert organic waste from landfills, improve soil health and promote the adoption of sustainable agricultural practices.

Steve Brazeel
In 2000, Steve Brazeel founded SunTerra Produce, which has grown from a one-person produce brokerage firm into an industry-leading, full-service platform handling sales, marketing, farming, food safety, harvesting, storage, and distribution activities for specialty crop producers on over 10,000 acres throughout the US and Mexico. Born out of SunTerra's participation in the USDA's ground-breaking Farmers to Families Food Box program, Project FoodBox was launched in 2020. Since the program's inception, the SunTerra/Project FoodBox teams have delivered over 85 Million pounds of fresh fruits and vegetables to communities in need through its network of food banks, community organizations, and health care plans.
Elevated Foods, founded by Mr. Brazeel in 2020, was recently awarded a $20M grant as part of USDA's Partnerships for Climate Smart Commodities program. Elevated was formed to bring more profit to farmers by incentivizing the adoption of new technologies & practices and providing technical support to help make them more efficient and resilient.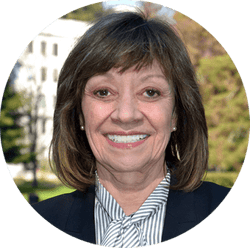 Featuring Karen Ross
Secretary of the California Department of Food and Agriculture
KAREN ROSS was appointed Secretary of the California Department of Food and Agriculture on January 9, 2019, by Governor Gavin Newsom.
In re-appointing Secretary Ross, Governor Newsom cited her unmatched leadership experience in agricultural issues nationally, internationally and in California, in areas including environmental stewardship, climate change adaptation and trade.
Secretary Ross was initially appointed by Governor Edmund G. Brown Jr. in 2011.

Jason Resnick
Senior Vice President and General Counsel
Jason Resnick joined Western Growers in 2003 and now serves as Senior Vice President and General Counsel. His responsibilities include overseeing the organization's legal department, trade practices department, H-2A Services division, and corporate governance as Western Growers' corporate secretary. Jason provides advice and counsel on various legal, business and policy matters. Jason has primary staff liaison responsibility over the Western Growers Board of Directors, and the WG Executive and Labor Committees.
Click here for Jason Resnick's full biography.